Key Issues Facing Canada's Investment Industry
Bond Market Transparency and Surveillance
Canadian Anti-Spam Legislation (CASL)
Client Relationship Model (CRM and CRM2)
Cooperative Capital Markets Regulatory System (CCMRS)
Exchange Traded Funds Disclosure Requirements
OECD Common Reporting Standard
Investment Banking Disclosure Requirements
Regulatory Treatment of Derivatives Securities
Restructuring the Order Protection Rule
Proxy Voting and Shareholder Communications
Anti Money Laundering
Financial services firms follow an extensive and onerous process to verify client identity to prevent suspicious transactions. They are also required to identify money laundering/terrorist financing risks and have in place risk mitigation measures, including ongoing monitoring of transactions, as well as due diligence processes when dealing with a politically exposed person (PEP)—an individual who is or has been entrusted with a prominent public function, or a relative or known associate of that person, who due to his/her position and influence is more susceptible to being involved in bribery or corruption.
The IIAC, as part of consultations launched by Finance Canada, requested changes to Canada's AML regulatory regime to minimize the compliance burden of Member firms. As a result of the IIAC's push, the regulations now provide: 1) broader and more flexible methods that firms can use to verify client identity, such as a credit card statement or utility bill; and 2) less onerous due diligence requirements for financial institutions when dealing with a PEP.
Changes to Canada's AML regime minimize the compliance burden for IIAC's dealer Member firms, resulting in a less time-consuming and costly processes.
The IIAC continues to provide comments to the Department of Finance regarding its proposed amendments to the Proceeds of Crime and Terrorist Financing Regulations. The IIAC was pleased that the Regulations have been amended to provide broader and more flexible sources that firms can use to verify the identity of clients, allowing such methods as a credit card statement or utility bill, thereby reducing the administrative burden on firms. The IIAC advocates that IIROC amend its AML Guidance to reflect the new changes and awaits the proposed guidance in development by FINTRAC.
In June 2016, the IIAC became an active member of the federal government's new Advisory Committee on Money Laundering and Terrorist Financing. Through this committee, the IIAC continues to encourage the Department of Finance to implement amendments that have been discussed in the past, most notably regarding the removal of the $75 million asset requirement for public corporations and an exemption from the authorized signing officer verification of foreign bodies.
Comment Letter: IIAC Comment Letter to Finance on AML Regulations, August 25, 2015
Bond Market Transparency and Surveillance
Effective oversight of Canadian debt markets and investor access to fixed income information serve to foster confidence in our markets. The Ontario Securities Commission (OSC) recently outlined a plan to enhance oversight of Canada's fixed income market, while the Canadian Securities Administrators (CSA) laid out the next steps in its plan for regulatory reform, including measures to increase post-trade transparency of corporate bonds. The IIAC agrees with the plan put forth by the OSC and provided industry commentary in response to the CSA's review of corporate bond market transparency. The IIAC continues to believe that efficient functioning of Canada's debt markets requires balancing investor needs for price discovery with the confidence of market makers to extend liquidity and capital in the market. The IIAC believes the proposed framework contained in the CSA Notice fell short of finding that optimal balance and will seek out opportunities to further consult with CSA staff on this matter.  
Letter from the President: V90 – Some Thoughts on the Recent CSA Proposal for Corporate Bond Transparency (December 2015)
Submission: IIAC Responds to CSA's Proposed Debt Market Transparency Framework, October 30, 2015
IIAC Fixed Income Market Regulatory Update: The IIAC produces a monthly newsletter designed to bring readers up-to-date on bond market regulatory developments in Canada, the U.S., Europe and Asia. It also includes relevant links and IIAC commentary. To access past editions of the IIAC Fixed Income Market Regulatory Update, click here. 
Canadian Anti-Spam Legislation (CASL)
On July 1, 2014, key provisions of Canada's anti-spam legislation (CASL) came into force. It is prohibited to send a broad range of commercial electronic messages without formal express consent. There are potentially severe penalties for non-compliance.
The initial drafts of the legislation were extremely burdensome, failing to recognize business practicalities. Through active consultations, the IIAC obtained critical concessions, including exemptions for referrals and business-to-business communications. The IIAC also coordinated its efforts with legal counsel and the Investment Funds Institute of Canada (IFIC) to develop an industry-wide compliance toolkit and a webinar to assist members in complying with this regulation.
Client Relationship Model (CRM and CRM2)
The CRM is the most comprehensive effort to reform the regulatory framework governing the financial advisory business—covering core components, from enhanced transparency of fees and advisor compensation, the reporting and management of conflicts of interest, "know-your-client" and enhanced suitability practices, and account performance reporting.
CRM rules related to the disclosure of the investment process, conflicts of interest management/disclosure, and enhanced suitability assessment reviews are now fully implemented and in effect. Implementation of rules related to pre-trade disclosure of advisor compensation and fees is now also in place. Amendments requiring registered firms to provide investors with enhanced client statements took effect year-end 2015, while rules relating to better disclosure around fees and investment performance took effect on July 15, 2016.
Firms will be required to implement and upgrade their relevant technology and integrate their systems to comply with the comprehensive rule framework, and to educate and train advisors so they can effectively address their customers' questions and concerns—all in all, a costly, complex and challenging initiative.
The IIAC has been actively engaged in consultations on the development of new rules and regulations to ensure they are as practical and cost-effective as possible.
The IIAC continues to work with the regulators to ensure successful implementation of CRM2, and has led the industry's preparedness efforts with several active working groups to assist Member firms. These include:
> CRM2 Communications Working Group
> CRM2 Fees and Compensation Working Group
> CRM2 Implementation Working Group
> CRM2 Market Value Working Group
> CRM2 Performance Reporting Working Group
> CRM2 Position Cost Working Group
The CRM2 Resource Centre on the IIAC's website provides information and tools for our members.
Cooperative Capital Markets Regulatory System (CCMRS)
The IIAC has long supported a national securities regulator. The CCMRS will reduce the regulatory fragmentation and duplication that exist with having provincial and territorial securities commissions, it will protect regional interests, and it will enhance the ability of law enforcement and prosecutors to achieve better criminal enforcement outcomes across Canada.
The CCMRS will also deliver cost-effective regulation to strengthen the competitiveness and integrity of Canada's capital markets; improve opportunities for savers and investors; make it easier for smaller and emerging companies to access capital; position Canada as an attractive destination for foreign investment; and provide one voice on the international stage.
The IIAC has developed a document detailing why the Cooperative Capital Markets Regulatory System (CCMRS) is an improvement over Canada's existing fractured regulatory regime for both investors and our capital markets.
Why the Cooperative Securities Regulator is Better is available here.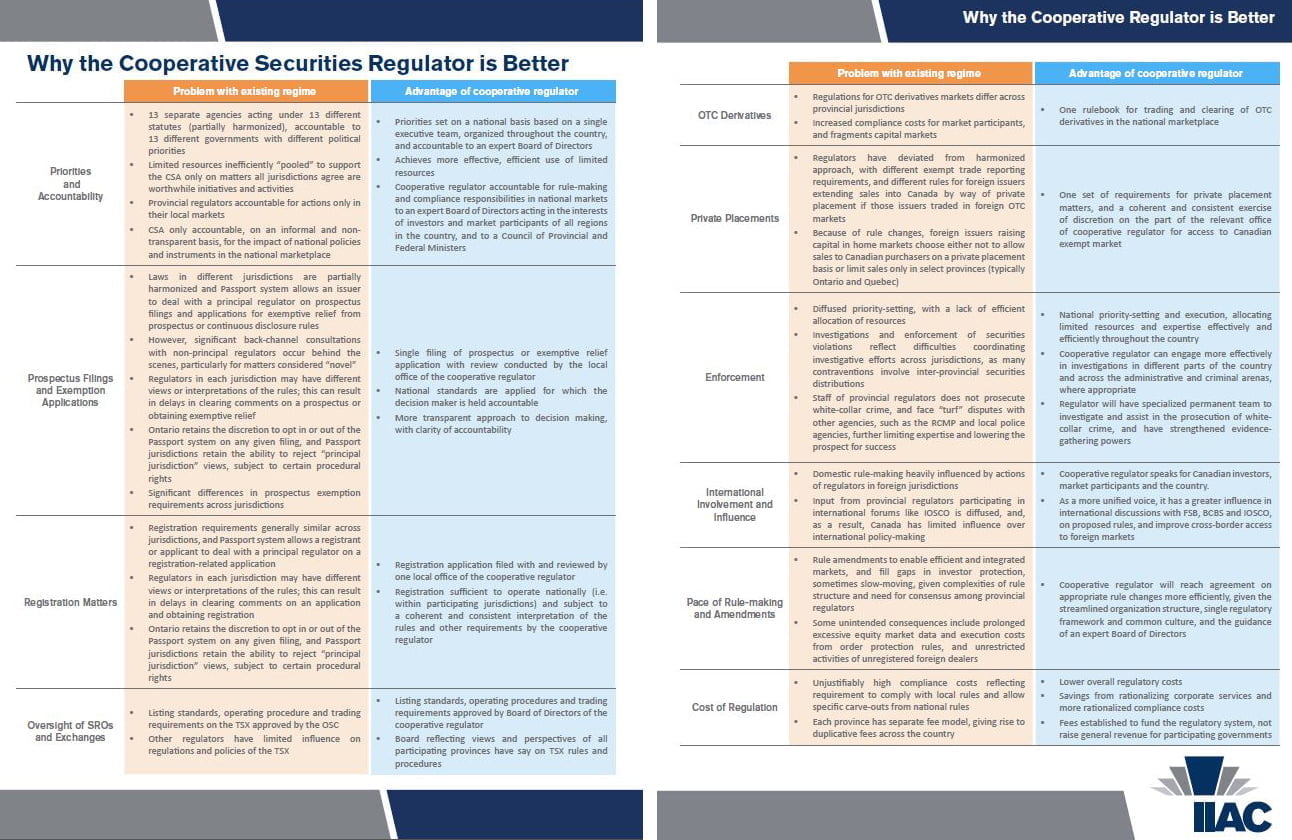 The IIAC has actively encouraged the Canadian provinces and territories to participate in the CCMRS. The federal government and the participating provinces and territories issued draft legislation in September 2014 and did so again in August 2015. The IIAC has provided constructive feedback on all the proposed legislation issued to date. 
The Capital Markets Stability Act (CMSA) sets out powers granted to the Capital Markets Regulatory Authority regarding national data collection, systemic risk related to capital markets and criminal enforcement. On May 5, 2016 the Department of Finance released for comment a revised consultation draft of the Act. This revised draft addressed many of the IIAC's concerns regarding the potential for undue regulatory burdens on capital market participants. It also included a number of positive changes that will help to ensure that the new systemic risk powers granted to the Capital Markets Regulatory Authority are used only if necessary and in coordination with all Canadian regulators to promote efficient capital markets and achieve effective regulation.
On July 6, 2016, the IIAC submitted comments on the revised draft of the Act, suggesting additional amendments for consideration.
Comment Letter: IIAC Comment Letter on Revised Capital Markets Act, July 6, 2016
Comment Letter: IIAC Comment Letter on Revised Capital Markets Act and Draft Regulations for CCMRS, December 21, 2015
Comment Letter: IIAC Comment Letter on the Cooperative Capital Markets Regulatory System, Dec. 8, 2014
The IIAC has been a leading voice in support of the CCMRS through media interviews and Opinion Editorials.  Here are some examples:
Investment Executive – December 23, 2015
Investment industry groups give a qualified 'thumbs-up' on proposed CCMR
Advisor.ca – December 21, 2015
Financial Post – August 19, 2015
Calm coming over the national regulator
Calgary Herald – February 17, 2015 
The case for a single securities regulator has not diminished
Advisor.ca –  February 10, 2015 
10 reasons Canada needs a single regulator
National Post – December 29, 2014
IIAC President and CEO Ian Russell Opinion-Editorial: Regulator's flaws are fixable
Canadian Press – June 16, 2014 
Investment group boss optimistic Alberta will join national securities regulator
Cyber Security
The rising frequency and complexity of cyber attacks, and the threat to confidential customer and client information, are a major business challenge.
Businesses across a wide range of industry sectors, and financial services firms in particular, are exposed to potentially serious financial, operational and reputational damage as a result of cyber attacks and data breaches.
It is critical that all firms, at the highest level of their organizations, develop and maintain comprehensive cyber security plans to protect themselves, their clients and their industry from the damage that a cyber attack can inflict.
The IIAC is committed to assisting our Members in their efforts to be cyber-resilient. The Cyber Security Resources section of our website contains information, tools and links to resources to assist firms in developing and maintaining their cyber security plans. The IIAC also hosts an annual Cyber Security Conference to help Members better understand the evolving cyber threat and is working with industry experts and service providers to bring our Members key services at association pricing.
Exchange Traded Funds (ETF) Disclosure Requirements
On June 18, 2015, the Canadian Securities Administrators (CSA) proposed new rules that would require a dealer that receives an order to buy ETF securities to provide the purchaser with a summary disclosure document called "ETF Facts" within two days of purchase. It is proposed that ETF Facts include ETF trading and pricing information and that the disclosure be made available on the website of the ETF or its manager. The proposed amendments are part of the CSA's broader point of sale disclosure project.
The IIAC has commented on the proposed amendments, including respecting the appropriate process and transition period for ETF Facts delivery. The IIAC has sought clarification and, where necessary, changes to the proposal from the CSA to ensure efficient implementation.
Submission: IIAC Comment Letter to the CSA re ETF Facts, September 16, 2015 
FATCA
The Foreign Account Tax Compliance Act (FATCA) is U.S. legislation that requires non-U.S. financial institutions to report relevant information to the U.S. tax authorities on financial accounts held by U.S. citizens or residents. The IIAC led efforts to streamline the reporting process through the development of an intergovernmental agreement (IGA) under the existing Canada-U.S. Tax Convention. As a result, Canada's financial institutions will not be required to report relative information on accounts of U.S. persons directly to the Internal Revenue Service (IRS), but to the Canada Revenue Agency (CRA). The CRA will then exchange the information with the IRS through the provisions in the existing Canada-U.S. Tax Convention. This centralized reporting through the CRA significantly increases the efficiency of the process and addresses privacy concerns. The IIAC was also successful in getting a number of important exemptions from the reporting requirements.
The effective date for the start of reporting under FATCA and the IGA was July 1, 2014. The first reporting date by Canadian financial institutions under this agreement was May 1, 2015. Key dates for FATCA implementation can be found here.
Due diligence on all pre-existing accounts to identify U.S. reportable persons should have been completed by all Reporting Canadian FIs by June 30, 2016. In December 2016, the CRA released significant revisions to the Part XVIII guidance in response to industry dialogue, and to better align with the OECD Common Reporting Standard (CRS) requirements.
The IIAC maintains an ongoing dialogue with CRA to resolve implementation and reporting challenges as they arise.
Information on FATCA and the IGA:
Ian Russell Letter from the President: Global Tax Reporting: The IIAC's Efforts to Help Member
Firms Navigate a Changing Landscape, May 13, 2016
On March 25–26, 2015, the IIAC –along with The Canadian Institute– hosted a FATCA Compliance Forum. The event focused on solutions for Member Firms to manage obligations under the IGA
Department of Finance Information on Intergovernmental Agreement
CRA implementation guidance for financial institutions and clients
Ian Russell Letter from the President: Moving Forward into the Post-FATCA Era: A More Sensible Canadian Approach, June 24, 2014
IIAC warns House of Commons Finance Committee any delay in passing Bill C-31 will have "serious consequences" for FATCA, May 13, 2014
IIAC Responds to Announcement of Canadian IGA to Implement FATCA, February 5, 2014
OECD Common Reporting Standard
On July 21, 2014, the OECD released the Standard for Automatic Exchange of Financial Account Information in Tax Matters. It requires governments to obtain from foreign residents detailed financial information (including account balances, interest, dividends and sales proceeds from financial assets) from their financial institutions and exchange that information automatically with other jurisdictions on an annual basis to help combat cross-border tax evasion and protect the integrity of the tax systems. Canada is one of more than 90 tax jurisdictions that have committed to implementing the Common Reporting Standard (CRS). More than 40 of these countries (not including Canada) pledged to achieve automatic information exchanges in 2017 (i.e. the early adopters). The IIAC proposed to the Canadian federal government to collect data in mid-2017 and begin the sharing process in 2018.
In the 2015 federal budget, the government announced that the CRS will be implemented on July 1, 2017, enabling the first exchange of information in 2018. This delayed implementation will ensure adequate compliance with the new requirements.
The IIAC will work with the Canadian authorities to align the due diligence and reporting standards for FATCA and the CRS. The IIAC will also work with industry members to develop tools and information to better inform clients about the new requirements.
Information on the CRS:
OECD Common Reporting Standard
OECD Automatic Exchange of Information Timeline
Canada Revenue Agency News Release on Common Reporting Standard
Best Interest Standard
In its 2016-2017 Statement of Priorities, the Ontario Securities Commission (OSC) announced it would move forward with a proposal for the introduction of a "best interest" standard.
Acting in a client's best interest means ensuring client interests are paramount; conflicts of interest are avoided; clients are not exploited; clients are provided with full disclosure; and services are performed reasonably prudently.
The IIAC supports the principles of advisors putting clients first, but questions the regulators' decision to proceed with creating a best interest standard as the Client Relationship Model (CRM) and other IIROC rules and guidance already address "best interest" obligations.
The IIAC stresses that, even before engaging in planned consultations with market participants on possible reforms, the regulators should undertake a rigorous cost-benefit analysis of all proposed new regulatory initiatives to confirm that the benefits of these reforms — incremental to the comprehensive CRM rule framework — justify the additional costs imposed on registered firms and advisors, and on clients. The efficiency and competitiveness of Canada's capital markets are at stake.
On April 28, 2016, the Canadian Securities Administrators (CSA) published for comment a paper which proposes regulatory action to improve the client-registrant relationship.
An IIAC Working Group carefully examined the consultation paper, identifying some areas of constructive reform, while questioning the merit of some proposals. Highlights of the IIAC's response include:
> The IIAC would welcome proposed reforms which would further assist in improving investors' experiences in all segments of the industry. Such measures would include aligning CSA National Instrument 31-103 to the existing IIROC rules which implement the Client Relationship Model (CRM) and promoting their enforcement; enhancing proficiency standards for registrants; and clarifying titles generally used in the industry. 

> The IIAC cautions that many of the new proposed reforms, which contemplate fundamental regulatory intervention in most aspects of the industry, may result in unintended consequences which adversely impact the client-advisor relationship. These include introducing unnecessary complexity, uncertainty and cost to the established regulatory framework without providing meaningful benefits for investors. 

> The IIAC is concerned that the proposed regulatory overhaul could ultimately decrease competitiveness and innovation in the marketplace and limit access to advice for retail investors which will not serve their interests. The IIAC urges the regulators to carefully consider their approach so as to avoid these potential detrimental impacts in the Canadian marketplace.

> In response to the proposal to impose a regulatory best interest standard, the IIAC agrees with the reservations expressed by a number of CSA jurisdictions that it would not be an effective means to enhance investor protection. The standard does not align with the CRM reforms already being implemented by the industry which encourage client participation in the client-advisor relationship.

> The broad, sweeping and vague best interest standard has uncertain application which may lead to client confusion and cause negative consequences for investors—reducing choice among business models, reducing access to financial products, decreasing affordability of financial advice, heightening uncertainty with respect to client-advisor relationship obligations—resulting in onerous compliance requirements, and increasing exposure to risk and liability for advisors.
The Ontario Securities Commission hosted a roundtable on December 6, 2016 to explore issues raised in CSA Consultation Paper 33-404 Proposals to Enhance the Obligations of Advisers, Dealers and Representatives Toward Their Clients.
In a panel session on the proposed best interest standard, IIAC President and CEO Ian Russell expressed the industry's concern about its lack of clarity, noting that while both the industry and the regulators want the best outcomes for clients, a clearly defined set of rules and responsibilities are needed so that:
Advisors know exactly what is expected of them in order to discharge their responsibilities under such a standard;

Firms can ensure compliance with such a standard; and

Regulators can enforce such a standard.
Russell pointed to the AMF's principles for fair treatment of consumers as an exemplary model in helping the industry move even closer toward meeting the objective of serving the best interests of clients.
Listen to the audio recording here. Note: Ian Russell's opening comments begin at the 22:47-mark of the clip.

Submission: IIAC Response to CSA Consultation Paper 33-404 Proposals to Enhance the Obligations of Advisers, Dealers and Representatives Toward their Clients, September 30, 2016
CSA Consultation Paper: CSA Consultation Paper 33-404 Proposals to Enhance the Obligations of Advisers, Dealers and Representatives Toward their Clients, April 28, 2016
Submission: IIAC Comment Letter on OSC Statement of Priorities 2016-2017, April 12, 2016
Guest column: "Best interest" standard not needed, by Ian Russell, IIAC President and CEO, Investment Executive, February 2016
Letter to the Editor: IIAC: Fiduciary standard not needed; Advisors already owe extensive duties to their clients within the obligation to deal honestly and fairly with them – Investment Executive, October, 2015
News release:  Canadian Regulation of Investment Advisors Meets and Exceeds Global Models, November 11, 2013
Report: CSA Consultation Paper 33-403: a legal analysis by Laura Paglia, Torys, November 11, 2013
Submission:  The IIAC Responds to CSA Consultation Paper 33-403 – Exploring a Best Interest Standard for Advisors, February 22, 2013
CSA Status Report: Status Report on Consultation under CSA Consultation Paper 33-403: The Standard of Conduct for Advisers and Dealers: Exploring the Appropriateness of Introducing a Statutory Best Interest Duty When Advice is Provided to Retail Clients, December 17, 2013
Financial Planning Standards
In Ontario, there are no specific regulations in place that govern financial planning. After some initial consultations to examine the merits of more tailored regulation of financial planners, the Ontario government formed an Expert Committee to provide advice and recommendations regarding whether, and to what extent, financial planning and the giving of financial advice should be regulated in the Province and the appropriate scope of such regulation. The Expert Committee's preliminary recommendations can be found here.
On June 10, 2016, the IIAC submitted a comment letter to the Expert Committee to Consider Financial Advisory and Financial Planning Policy Alternatives. The IIAC outlined its support for additional clarity and standardization for the provision and supervision of financial planning in the industry as it is important for consumers that financial planners satisfy minimum proficiency levels regardless of the regulatory channel within which they work. The Association also welcomed the recommendation that those firms and individuals that provide financial planning through other existing regulatory frameworks be allowed to have their activities regulated by their existing regulator to avoid regulatory duplication. However, the IIAC has concerns with a number of recommendations, including those related to implementing a statutory best interest duty and prohibitions on referral arrangements. Most importantly, the Association stressed the need for the harmonization of financial planning standards not only in Ontario, but across Canada to ensure maximum effectiveness and to avoid inefficiency resulting from provincial inconsistencies. The BC Government since began a consultation process to examine the issue of financial planning and the IIAC met with government representatives to discuss our position as outlined above.
Submission: IIAC Responds to Expert Committee's Recommendations on Financial Planning, June 10, 2016
Media commentary: Much support for Ontario expert panel's recommendations, Investment Executive — April 6, 2016
Ontario Expert Committee Recommendations:  Preliminary Policy Recommendations of the Expert Committee to Consider Financial Advisory and Financial Planning Policy Alternatives – April 5, 2016
Submission: The Investment Industry Calls for Regulation of All Financial Planners – IIAC and IFIC Joint Submission to the Expert Committee to Consider Financial Advisory and Financial Planning Policy Alternatives, September 21, 2015
Investment Banking Disclosure Requirements
The Canadian Securities Administrators (CSA) and the Investment Industry Regulatory Organization of Canada (IIROC) have been active in their attempts to reformulate many of the regulations that affect the ability and means by which companies can raise funds and undertake transactions to reorganize their businesses. These initiatives include a number of new and amended prospectus exemptions, as well as regulation dealing with: take-over bids; the accompanying regulatory, public and shareholder disclosure; and due diligence procedures to be undertaken by dealers. Although many of these proposals are positive, they often contain elements that would create inefficiencies and unnecessary costs, such as a complex patchwork of differing prospectus exemptions across jurisdictions, inappropriate disclosure of private information, and extensive timelines interfering with the deal-making process.
Point of Sale Implementation
When purchasing a mutual fund in Canada, investors must be provided with a document including information about the fund, such as past performance, costs and breakdown of investment assets. This document is known as "Fund Facts".
Currently, investment dealers have two days to provide Fund Facts documents to investors who purchase a mutual fund; however, as of May 30, 2016, member firms must provide the appropriate Fund Facts document before selling mutual funds to a client.
Providing this important disclosure at the point of sale – instead of up to two days later – results in more informed decisions on the part of investors and brings Canada in line with global regulatory standards, including International Organization of Securities Commissions (IOSCO) Principles on Point of Sale. Prior to implementation, firms will need to update their systems, develop compliance policies and procedures, and provide training to staff.
The IIAC will continue to assist members in addressing the implementation challenges associated with these new requirements. It will seek clarification and, where necessary, specific exemptions from the Canadian Securities Administrators (CSA).
The IIAC's comment letter to the CSA, dated May 26, 2014, is available here.
Submission: IIAC Comments on CSA's Fund Risk Classification Methodology, March 9, 2016
CSA Notice and Request for Comment: Implementation of Stage 3 of Point of Sale Disclosure for Mutual Funds – Point of Sale Delivery of Fund Facts
Regulatory Treatment of Derivatives Securities
Achieving greater transparency in the over-the-counter (OTC) derivatives market is a key component of the post financial crisis regulatory reforms committed to by the G20 to mitigate systemic risk. In meeting Canada's commitment to the G20, the Canadian Securities Administrators (CSA) intends to establish a nationwide harmonized derivatives clearing regime that is in line with international standards.
The IIAC appreciates the leadership demonstrated by the provincial regulators to develop an OTC derivatives regulatory framework in Canada that will meet the G20 commitments and align with international standards. However, the IIAC has grown increasingly concerned over the alignment and harmonization of OTC derivatives rulemaking across Canadian jurisdictions, both with respect to timing and content of those rules.
The IIAC understands that given the complexities of derivatives legislation, it may not be possible to develop a national framework; however, regulators must work carefully to ensure provincial regulations are harmonized. 
The IIAC urges all provincial regulators to increase their efforts to harmonize with the other CSA jurisdictions with the goal of reducing confusion and risk for participants, improving overall efficiency, and ensuring that Canada's marketplace remains competitive globally.
Restructuring the Order Protection Rule
The Order Protection Rule (OPR) requires dealers to execute orders on the various stock exchanges and trading venues that offer the best executed price. This prevents inferior-priced orders from "trading through", or executing before, immediately accessible, visible, better-priced limit orders. In order to determine the best price at any given time, investment dealer firms must pay almost all of Canada's exchanges and trading venues to access their real-time market data, resulting in unnecessary costs for the industry.  
The IIAC provided comments in response to CSA proposed amendments in 2014 and 2015. In April 2016, the CSA published final amendments to the OPR, taking into account many of the IIAC suggestions.    
The amendments include:
A market share threshold set at 2.5 per cent market share of the adjusted volume and value traded equally weighted over a one-year period;
Guidance related to intentional order processing delays or speed bumps;
A data fees methodology; and
A cap on active trading fees charged by marketplaces.
The IIAC will continue to provide input to the CSA, including possible solutions relating to the OPR.
CSA Notice and Request for Comment: Proposed Amendments to National Instrument 23-101 Trading Rules, April 7, 2016 
Submission: IIAC Comments to CSA re the Application of the Order Protection Rule to Marketplaces Imposing Systematic Order Processing Delays (Speedbumps) August17, 2016
Proxy Voting and Shareholder Communications
Shareholder voting is essential to the quality and integrity of Canada's public capital markets as it enables shareholders of companies to have their say on corporate governance matters. In Canada, shareholders typically vote by proxy, as opposed to in-person at shareholder meetings.
Concerns have been raised with respect to the quality of the shareholder voting process and the integrity of the results.
The IIAC participated in the Canadian Securities Administrators (CSA)'s review of the proxy voting system and processes, including through the IIAC's Proxy Protocol Working Group, to identify cost-effective improvements to the fragmented and complex proxy voting infrastructure. Draft proxy voting protocols were developed with IIAC member input to provide guidance on the roles and responsibilities of all key participants (i.e. intermediary dealers who submit proxy votes, transfer agents who act as meeting tabulators, vendors acting as proxy agent, and Canada's central depository for securities) in the proxy voting process, and detail the operational processes for tabulating proxy votes held through intermediary dealers. The draft proxy voting protocols are intended to increase transparency and accountability, reduce transaction costs and discretion in vote processing to the benefit of issuers and investors, and enhance investor confidence in the integrity of the shareholder voting process—to the benefit of capital markets. The CSA published the draft proxy voting protocols for public comment at the end of March 2016 and the comment period closes July 15, 2016.
Tax Treatment on Investments
An efficient investment-savings process is critical for well-functioning financial markets, capital formation and economic growth. The IIAC has advocated for tax incentives to encourage investment in the shares of small and medium-sized enterprises and for improved treatment of tax-assisted retirement plans to improve savings.
The IIAC has called on the federal government to implement legislation to provide for the deferral of income taxation on capital gains when the proceeds are reinvested in small business shares within a six-month period; introduce a tax relief scheme to spur investment in small Canadian companies and startups similar to a UK model; and make targeted improvements to existing federal tax-assisted savings vehicles.
The IIAC voiced concerns over the Ontario government's decision to implement the Ontario Retirement Pension Plan (ORPP) in 2017. The proposed ORPP will have substantial startup and administrative costs and could have serious unintended consequences, both in terms of the negative impact on small Ontario businesses and investment in Ontario.
The IIAC also questions the need for a voluntary supplement to the CPP, as most Canadians have been able to replace enough of their working-age income in retirement to ensure an adequate standard of living.
The IIAC will continue to advocate tax policies that support investment and job creation.
News release: IIAC 2016 Federal Budget Response March 22, 2016
Submission: IIAC 2016 Pre-Budget Submission to House of Commons Standing Committee on Finance, February 19, 2016
Guest column: IIAC's Ian Russell: Unlock private capital to kick-start the economy, Policy Options, November 30, 2015
Submission: IIAC Submission on a Voluntary Supplement to the Canada Pension Plan, August 28, 2015
Letter: IIAC Letter to Finance on Carrying on a Business and TFSAs, February 27, 2015
Submission: IIAC Response to ORPP Consultation Paper, February 13, 2015
Treatment of Mutual Fund Fees
In June 2015, the Canadian Securities Administrators (CSA) released the findings from the Brondesbury Report which assesses the extent to which the use of fee-based versus commission-based compensation changes the nature of advice and impacts investment outcomes over the long-term. The CSA noted that the Brondesbury Report, together with comments received during stakeholder consultations and additional research will be factored into the CSA's determination of whether to effect certain policy change. The CSA stressed that the impact of new compensation schemes and their impacts need to be addressed to ensure that undesirable and unintended outcomes are minimized.
In the IIAC's view, the Fund Facts under the Point of Sale project and Phase 2 of the Client Relationship Model (CRM2) should be allowed to be fully implemented and evaluated before a decision is made on whether there are any remaining areas that require additional policy reforms.
Submission: IIAC Comments on MFDA Consultation on Expanded Cost Reporting for Investment Funds, March 10, 2016
CSA: Mutual Fund Fee Research Report, The Brondesbury Group, June 11, 2015
CSA: Discussion Papers and Request for Comment
Venture Market
The TSX Venture Exchange (TSXV) is an important source of funding for small-cap, early stage companies as well as mid-sized Canadian businesses that have outgrown access to angel networks or private equity and are turning to public markets to raise much needed funds to meet their strategic objectives.
The TSXV is facing a number of challenges that affect not only the exchange and its potential issuers, but the professional infrastructure supporting it.
In December 2015, the TMX released a whitepaper, entitled Revitalizing TSX Venture Exchange: Canada's Public Venture Market, outlining tactics to help support, revitalize and grow its marketplace. The goals are to reduce our clients' administrative and compliance costs without compromising investor confidence; expand the base of investors financing companies and generally enhance liquidity; and diversify and grow the stock list to increase the attractiveness of the marketplace.
A successful, diversified remedial plan for the TSXV involving some easing in the regulatory burden on listed companies and small dealers, bringing more investors (especially from the U.S.) to the Canadian venture capital marketplace, diversifying listings to technology and other non-resource sectors, and providing a financing incentive to listed TSXV companies to offset risk, should open up investment banking and trading and distribution business for the small boutique dealers.
The IIAC with continue to work with key stakeholders, including buy-side and sell-side market participants, regulators and marketplaces to develop targeted plans to re-invigorate the public venture markets.
IIAC Letter from the President: V91 – Pulling out the stops to rescue the TSX Venture Exchange: a recipe for strengthening small business access to equity capital and promoting growth and jobs (January 2016)
BNN Interview: IIAC's Ian Russell discusses proposals to revitalize the TSX Venture Exchange, January 15, 2016
TMX Whitepaper: Revitalizing TSXV: Canada's Public Venture Market, December 2015
Guest column:  Saving Canada's Venture Exchange, by Ian Russell, IIAC President and CEO – Canadian Business Journal, July 15, 2015
IIAC Letter from the President: V84 – Saving the Canadian Venture Markets Before It's Too Late (June 2015)