Event Description: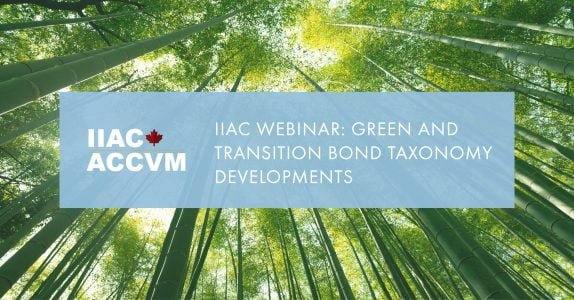 Webinar: Green and Transition Bond Taxonomy Developments | Thursday September 22, 2022 | 3:00 – 4:00 pm ET
The Canadian and global green and sustainable finance market has seen exponential growth in the past few years. This has necessitated the development of detailed guidance in the form of taxonomies. Green, sustainable and transition bond taxonomies improve clarity and provide guidance to market participants, enabling investors and firms to properly identify green activities and make informed decisions on sustainable economic activities. There are multiple taxonomies in use and under development. This webinar identifies and explains trends and the implications for the green sustainable and transition finance market.
Speakers
Siddharth Samarth | Executive Director, Sustainable Finance | CIBC Capital Markets | CIBC
Jason Taylor | Managing Director, Sustainability Advisory & Finance | National Bank Financial
Barbara Zvan | President & Chief Executive Officer | University Pension Plan Ontario (UPP)
REGISTER FOR THE WEBINAR HERE. 
*** This session may be eligible for CE credits ***